Sustainability
One of our goals is to preserve and protect the ocean and promote coexistence with nature as a prerequisite to producing beautiful pearls. We strive to help the pearl industry improve overall while promoting environmental sustainability.
桜田通、MIKIMOTOの聖地を巡る。
~真珠王"御木本幸吉"と真珠の歴史~
普段からパールジュエリーをファッションとして愛用する俳優の桜田通が「ミキモト多徳養殖場」を訪れた。
丸く美しい輝きを放つ真珠がいかにして誕生するのか──真珠に魅せられた桜田が世界で初めて真珠の養殖に成功したMIKIMOTOの"ふるさと"である伊勢志摩で、その高いクオリティと世界に誇る卓越した職人たちの技術力を体験する。その様子を全3回にわたって公開。
養殖場および関連施設はすべて一般非公開となります。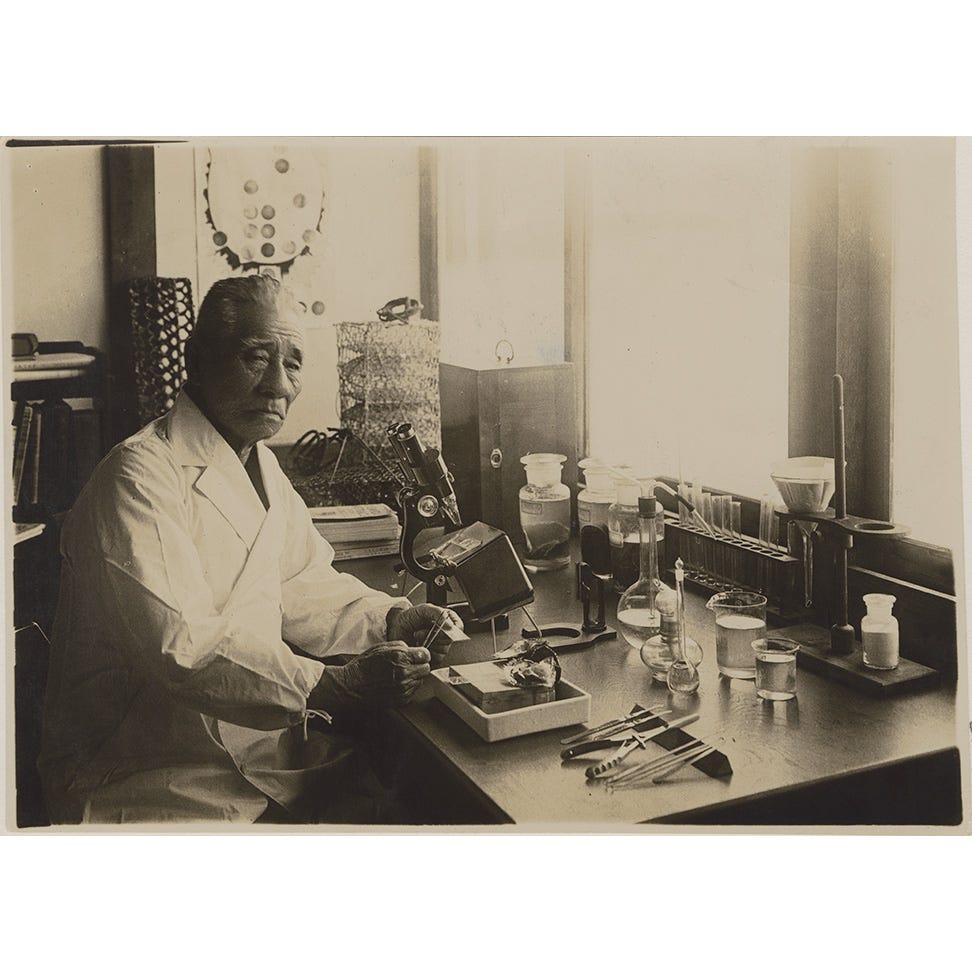 Mikimoto's contribution to pearl culturing
After successfully culturing semi-spherical pearls, Mikimoto's founder Kokichi Mikimoto opened a research centre on Tatoku Island in 1902. Launching further research into fully spherical pearls he succeeded in their cultivation three years later. In 1930, the Japanese government designated Kokichi Mikimoto as one of Japan's top ten greatest inventors on the same occasion he opened the Pearl Institute Co. Ltd, also located on Tatoku Island. Continuing Kokichi Mikimoto's vision, the Mikimoto Pearl Research Laboratory in Mie Prefecture is today a full-scale institute dedicated to comprehensive investigation into Mikimoto's longstanding pearl-related exploration. Its topics of study are wide-ranging, including everything from pearl cultivation itself to quality-related research and differentiation with respect to individual pearls, as well as preservation of the marine environment within which pearl cultivation takes place.
Research into the habitat for culturing the Akoya pearl oyster has a long history that stretches back to the very beginning of pearl cultivation, including investigations into the red tide that has had a damaging impact on the health of Akoya pearl oysters. We continue to engage in research, not only with respect to our own company, but the pearl industry as a whole.
Zero-emission pearl farming
Pearl oysters need a thriving marine ecosystem that offers nutrients and water quality for healthy growth. We are taking steps to reach net-zero emissions by developing responsible pearl farming standards and technological solutions to protect the natural environment. This will help us produce pearls in a more ecologically sustainable manner. In the past, when pearls were harvested, the shells and meat were discarded, except for the adductor muscle that was eaten as food. In collaboration with our internal and external partners, we are reusing and recycling all the waste that results from the process of pearl production.
For example, we extract active ingredients, such as collagen and conchiolin, which is known as pearl protein, from organic waste and use them in cosmetics and food supplements. Shells are used to make ornaments or improve soil quality. The residue of oyster meat and fouling organisms on the pearl oysters are used to make compost.
A water quality environment monitoring system, Kai-Lingual
In 2004, the Mikimoto Pearl Research Laboratory collaborated with Tokyo Measuring Instruments Laboratory Co., Ltd. to develop the world's first organic-based water quality environment monitoring system, "Kai-Lingual." It detects red tide, oxygen deficiency and other sea abnormalities by analyzing shell movements on a real-time basis. This minimizes the impact on fisheries, including oyster farms. It is expected that these smart technologies we developed to reduce the environmental footprint and impact on shellfish can be applied to monitor not only coastal and oceanic but also inland water ecosystems. Mikimoto is doing our part to save the ocean, where our pearls are grown, and build a future in which humans live in harmony with nature by harnessing the power of nature and technology.

Working toward a better future for pearl farming
In 2000, native wild juvenile Akoya oysters (Pinctada fucata) were found on Ainoshima, an island in Fukuoka prefecture located in the Genkai Sea. In collaboration and partnership with Kyushu University, Fukuoka Prefecture, and Shingumachi town, Mikimoto established the first pelagic fishery for wild Akoya oysters in Japan. Ever since then, we have been working to conserve and restore wild oyster habitats and increase their populations while enhancing the wellbeing of the environment by developing and deploying zero-emission solutions for today's pearl farming industry. Akoya pearls produced in Ainoshima typically are big and have thick layers of nacre, which appear smooth and lustrous. We strive to celebrate and promote the culture of beautiful pearls and inspire future generations -- we do this by producing Akoya pearls that represent a bright future for our industry.
Use of sustainable materials for pearl necklace strands
In 2023, we switched from using silk threads for our pearl necklace strands to 100% recycled polyester fiber threads produced from used PET bottles (with the exception of certain jewellery items such as special necklaces). As the originator of cultured pearls, this is one of Mikimoto's initiatives aiming towards a future co-existence with the pearl-nurturing ocean, as well as with nature at large.
Additional initiatives
Based upon their achievements in clarifying the structure of pearls (biomineralization), the University of Tokyo Graduate School of Agricultural and Life Sciences and the Kitasato University School of Marine Biosciences have continued to develop technologies to stabilise carbon dioxide within the atmosphere using the calcium found in seawater (CO2 mineralisation). The Mikimoto Group (which comprises Mikimoto, Mikimoto Cosmetics, and Mikimoto Pearl Island) is cooperating with this research towards reducing CO2—which causes warming—in order to protect our global environment.
Through joint research by the Okinawa Institute of Science and Technology, Mikimoto Pearl Research Laboratory, and Fisheries Technology Institute of the Japan Fisheries Research and Education Agency, the genome information of Akoya pearl oysters was reconstructed by individual chromosome with a high level of precision. By improving disease-resistant Akoya pearl oysters through the use of this genome information, we can expect further contributions in the area of cultivating pearls.